Kitesurfing in Moitas
In Moitas, the nearby bay is shared with kitesurfers, who have often set up their quarters in the neighboring village of Icaraizinho. Due to the course of the beach, the bay of Moitas is mostly covered from the wind. In addition, it is a place inhabited mainly by fishermen. As a result, numerous fishing boats are anchored in the calm bay.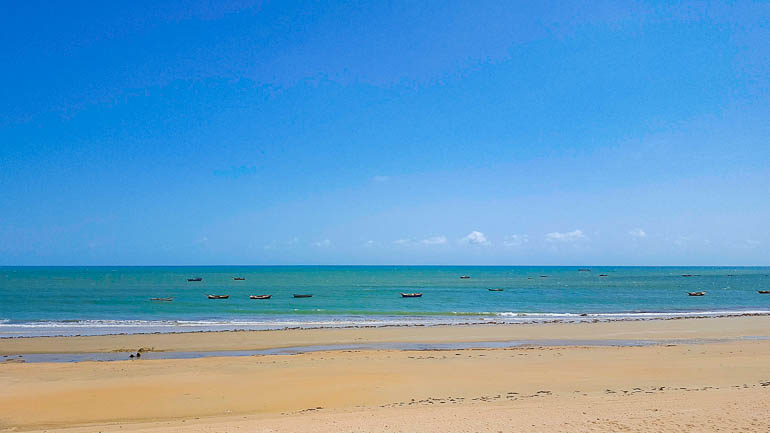 Most pousadas on the beach offer transfers to the nearby kite spots. Alternatively, if you are traveling with your own rental car, you can drive the 1.25 mi upwind on the beach. In the bay, wave novices will find good conditions. At low tide the sea is very peaceful throughout the bay. It can be described as shallow water. The spot is suitable for beginners, as only near the beach there is waist-deep water.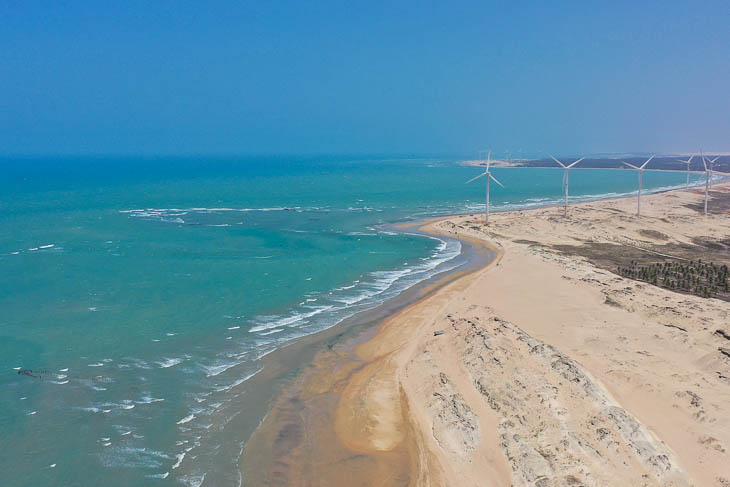 If you prefer flat water instead of waves, you can do a 2.5 miles long kitesurf downwinder to Patos There you will find world-class flat water conditions for kitesurfing. Anyone heading in this direction should definitely think about a ride back. After all, the almost 220 yards wide Rio Aracatiaçu lies in between. The ferry for cars is not on the beach here, but is a good 0.6 miles upstream inland.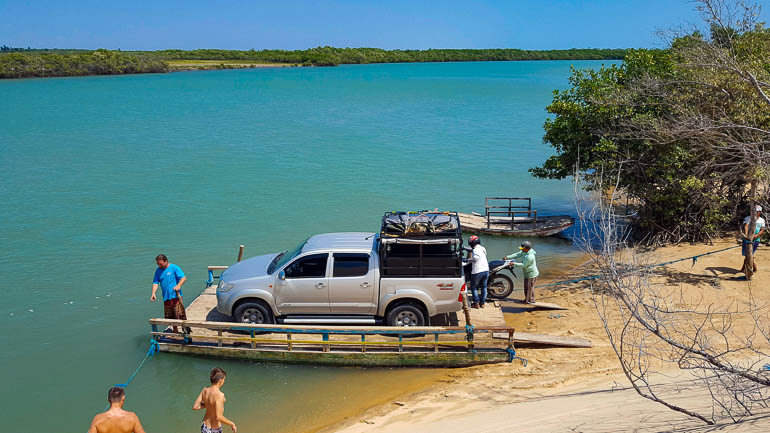 Spot and wind conditions
shallow

flat water

choppy

wave < 6.5 ft
Kitesurfing on Moitas Beach is only possible to a limited extent. Here you visit excellent spots in the immediate vicinity. Upwind in Icaraizinho or at the beach Praia De Icarai De Amontada mainly wave kitesurfers will be happy. On the other hand, downwind in Patos, there are several excellent flat water areas.
Tide
Depending on where you go from Moitas, high and low tide has quite a big influence on the spot. While you can kitesurf in the bay of Icaraizinho even at low tide, the flat water spots of Patos are strongly tide-dependent. Exact information about this can be found in the respective spot description.
Dangers zones
Only at low tide do a few rocks come to the surface of the water at the wave spot. However, these are easy to spot. There are no hidden dangers. The beach consists of the finest sand and there are no shells or stones.
Kitesurf Downwinder
From Moitas it is only 1.5 mi downwind to the mouth of the river, which is kiteable at high tide. Another 2.2 mi downwind there is a salt water lagoon, which is also suitable for kiting at high tide.
Since there is not much going on on the long beach of Patos, the Praia dos Patos, the next stops are a little further away. Almofala beach is around 15 kilometers from Moitas. From there it is another 13 km (8 mi) to Ilha do Guajiru.
Spot overview
Moitas location description
Moitas is a typical Brazilian fishing village with a few pousadas and restaurants. You can find peace and relaxation here. Most accommodations are located near the beach, which is very original and romantic. The town center is almost 1 mile inland. There are a handful of shops there too. But there is no pharmacy in this sleepy place.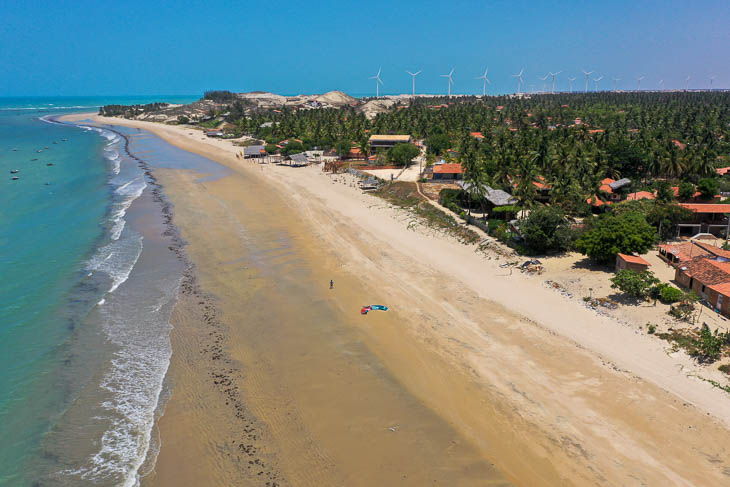 Directions
Moitas is pretty much halfway between Fortaleza and Jericoacoara. The distance from Pinto Martins International Airport is 124 miles and takes less than 3 hours. The road consists entirely of asphalt or cobblestones. You don't have to drive on sandy roads to get to Moitas.
Accommodation and restaurants
There are about a dozen accommodations and about the same number of restaurants. You can now find accommodations in all price ranges. You don't have too much choice among the eateries. As for the nightlife, it has to be made very clear that there isn't much going on here. Moitas is definitely a place of rest and relaxation. An evening detour to neighboring Icaraí provides a small change of scenery.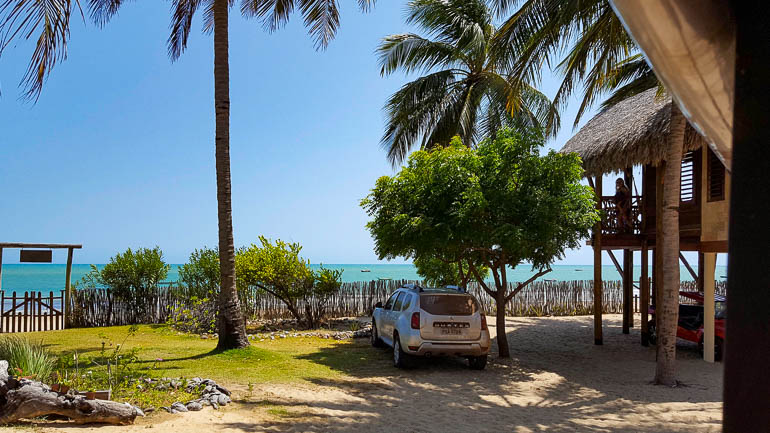 Additional Activities
A very special insider tip is the oyster restaurant Ilha das Ostras, located just outside behind the sand dunes. This restaurant has fresh oysters and shrimp at incredibly cheap prices. But that is not all. Quite a few claim that they have the best caipirinha far and wide here. The restaurant still has no power connection. After sunset, numerous candles are therefore lit for illumination. That makes this place a romantic highlight.
The drive over the dunes to the remote and isolated gourmet temple is an adventure trip in itself. But you can only get there with four-wheel drive or a buggy. The excursion can be optimally combined with a detour to the nearby dunes. Up there you have a very nice view of the sunset.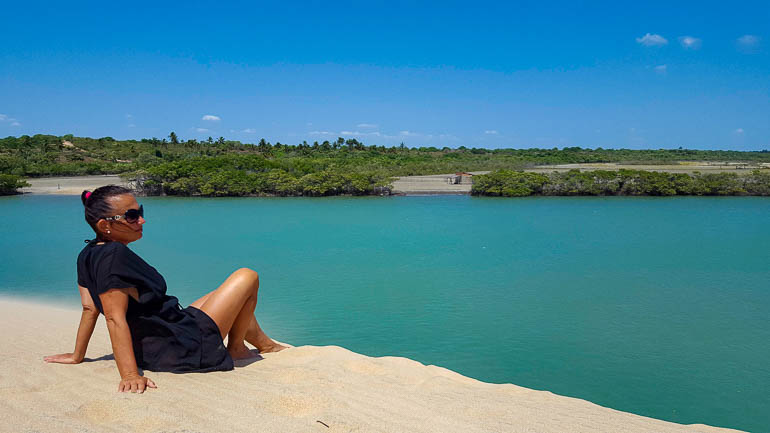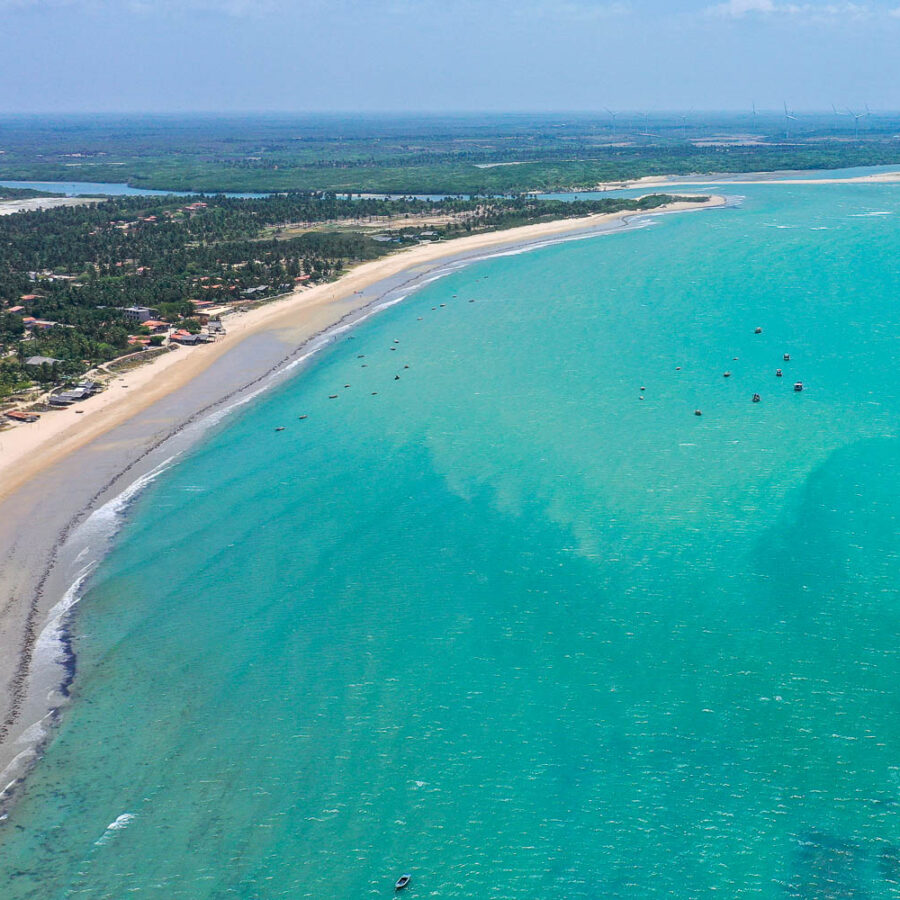 Kite spot Moitas
Summary
Those who come to the original fishing village of Moitas are looking for peace and quiet and should be mobile or use the transport options in their accommodation. There are excellent kite spots for waves and flat water in the vicinity.
Pros
Wave spot and flatwater spots nearby
Very inexpensive dining options
Cheap accommodations
Cons
Car or transfer necessary for kitesurfing
Not a place for party