Kitesurfing in Atins
Atins is an absolute insider tip among shallow water lovers for a reason and offers free space without end. The remote spot is not nearly overcrowded, even in the high season. The hard-to-reach fishing village is located at the huge estuary of the 75 mile long Rio Preguiças. However, the erosion of the river is causing the village a lot of trouble. The huge sandbanks in front of the beach allow for mirror-smooth flat water at all tides.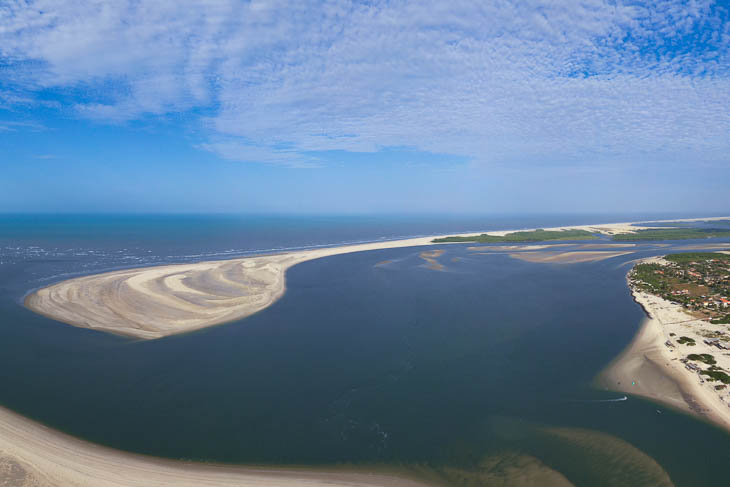 If you kite further out into the open sea, you will find nice waves, although not too high. On the 700 meter long route you have to cross the river completely. The water can become quite choppy at the point where river and sea meet. But this changes suddenly as soon as you reach the sandbank on your right.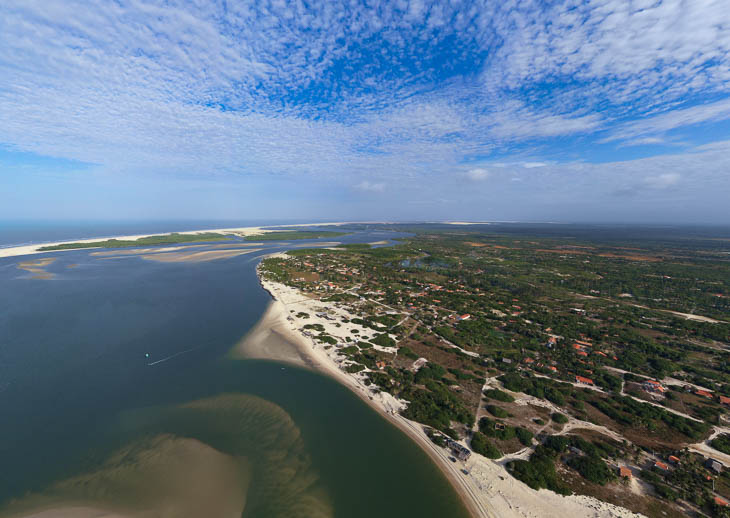 A very special and unique kitesurfing experience is certainly a visit to the nearby Lençóis Maranhenses National Park. During the rainy season, countless freshwater lagoons fill up between thousands upon thousands of white sand dunes These crystal clear lagoons shimmer mostly turquoise to azure blue. A sight not to be missed.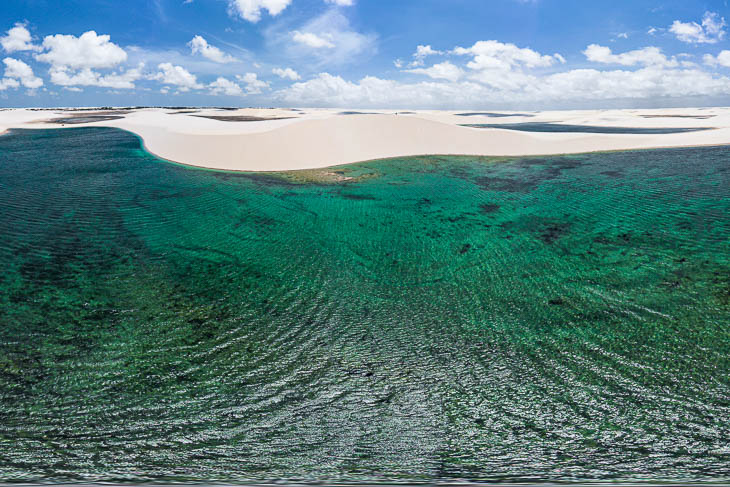 However, if you want to kitesurf in one of the numerous lagoons in the Lençóis Maranhenses National Park, you should come to Brazil during the summer months if possible. By September at the latest, the lagoons slowly begin to evaporate. How long it takes for them to dry out completely depends on the amount of precipitation during the rainy season. Although there are a few lagoons that are filled with water all year round, the water color is not as spectacular there.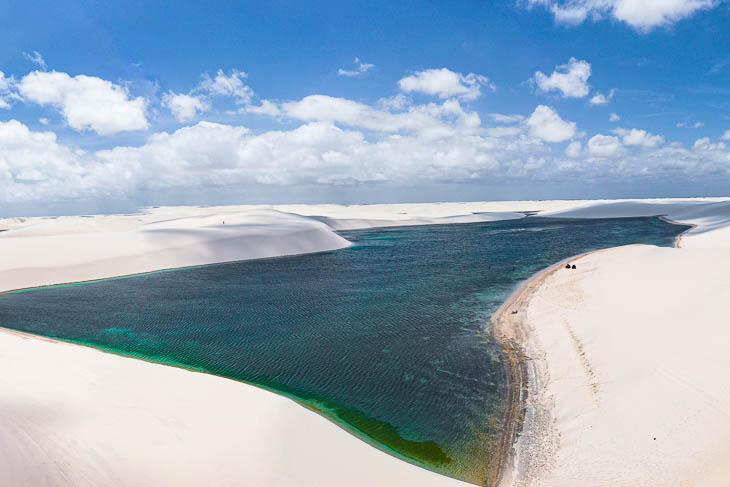 Spot and wind conditions
shallow

flat water

choppy

wave < 6.5 ft
Kitesurfers of all levels will be happy in Atins. Not only beginners will enjoy endless space and flat water. If you kite a little downwind, you will find shallow water behind the smaller and closer sandbank. If you want waves, you have to go 2 km (1.25 mi) out into the sea, but you will not be disappointed. Despite the distance to the beach, it is quite safe by the sea, as there is a large sandbank in the lee.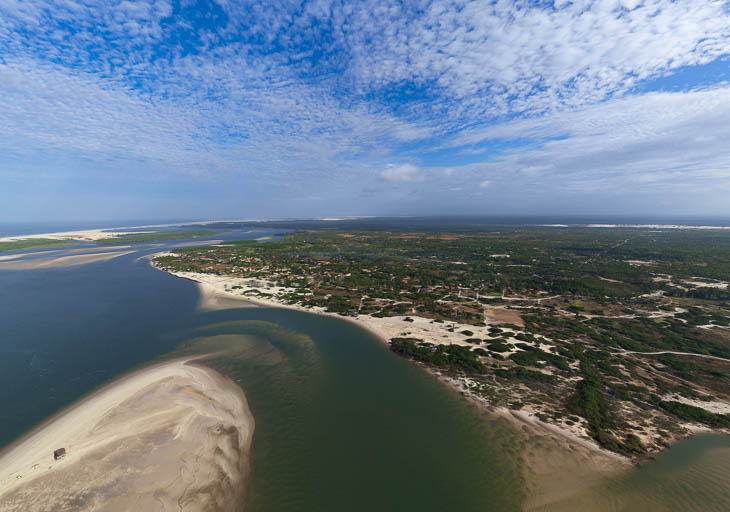 The wind here is usually not quite as strong as in Jeri or Prea from which lightweights could possibly benefit. Nevertheless, it is rare to see a kite here larger than 12 m2. The strongest winds in Atins are from October to mid-December.
There are plenty of kite schools directly on the beach as well as in town.
Tide
The conditions for kitesurfing hardly change in Atins at high or low tide. It is obvious that the water is calmer at low tide and larger waves occur at high tide.
Dangers zones
Absolutely none. Here there is nothing but warm water and fine sand. Neither near the beach nor in the river. Also the wave spot in the sea is free of any rocks and reefs.
Kitesurf Downwinder
Atins is the destination of many kitesurf downwinders, but hardly any downwinder starts here. This is not only due to the fact that this kite spot is very remote, but also because of its geographical position. Of course there is the possibility of kiting downwind for hours in the company of a vehicle on the beach from Atins. However, that far in the northwest no multi-day kite trips takes place.
Depending on the water level in the lagoons, it is recommended to combine the downwinder from Atins with a visit to the national park. A kite session in the crystal clear lagoons will burn into your memory forever – we promise! Whether the water level in the lagoons is still sufficient, you can find out from the local kite schools.
Kitesurf Downwinders from / to Atins
Spot overview
Atins Location description
Atins is far off the beaten track and this is exactly what makes up a large part of its charm. The fishing village in "nowhere" was connected to the power grid only a few years ago. The deep sand roads in the village can only be conquered with a 4×4 or quad bike. In Atins you have the feeling that you have made a 20-year journey back in time to Jericoacoara.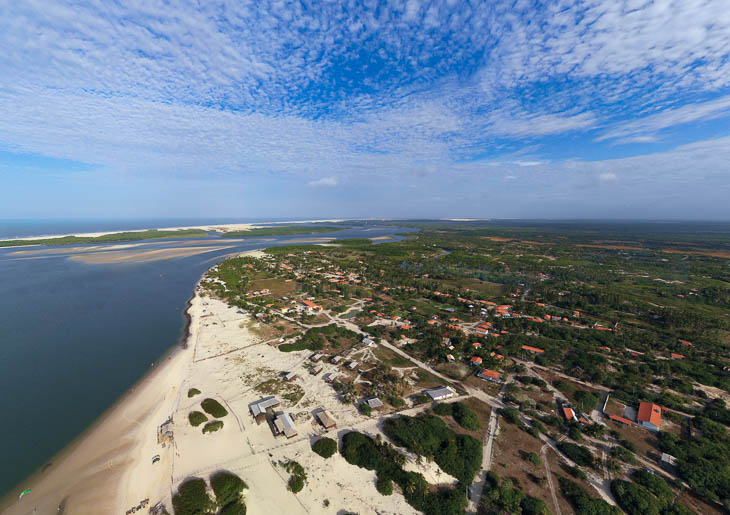 Thanks to the adjacent national park and the excellent kite conditions on site, the community benefits from backpackers and kite surfers alike. Nevertheless there is no cash dispenser here. Only a few pousadas and restaurants offer payment by debit or credit card. In the small supermarkets you can only pay with cash.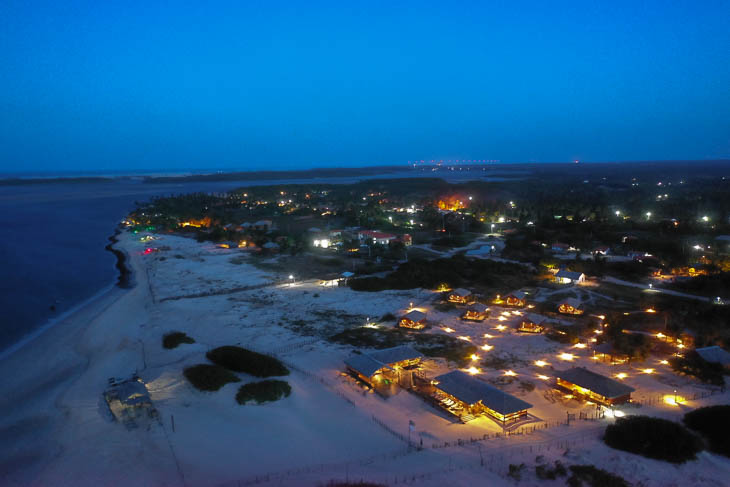 Directions
Even though Atins is very remote, as a kitesurfer you should spare no effort to visit this magical place sooner or later. Even getting to Atins is a real adventure. The starting point for a 4×4 off-road vehicle ride through the savannahs or by boat along the river is in both cases the village of Barreirinhas, a good 12 miles away.
If you are not traveling with an all-wheel drive pick-up like Hilux or the like, you have to park your car in Barreirinhas and continue by boat. The way to Atins is not manageable without 4×4. If you do not know the route well, you will also need a guide. The driver of the off-road vehicle should have sufficient knowledge to drive long distances in deep sand. The sand road to Jeri, on the other hand, is child's play. But in Atins itself you do not need a vehicle. Everything necessary is within walking distance.
Accommodation and restaurants
Atins lives more or less from tourism. At the end of the rainy season, the national park attracts visitors from all over the world. From July onwards, it is the kite surfers who increasingly visit this remote place. There are enough pousadas and chalets in Atins. The remote location of the town affects local prices. Almost all the food has made a journey of several hours. The complex transport is done by boats or pick-up trucks. Staff do not live on site and require their own accommodation to stay overnight.
A very charming place to lay your head when in Atins is Convento Arcadia. Eight artistically designed chalets are spread out in a tropical garden and offer space for two to six people. The place is a mere 200 yd from the beach and features an excellent restaurant, a refreshing pool and a bar/lounge to chill.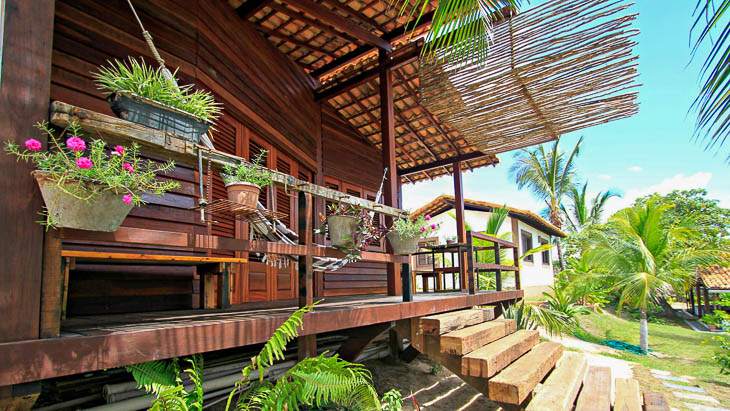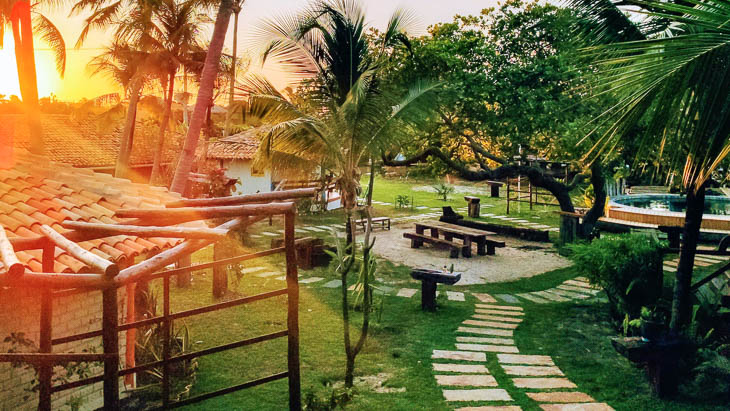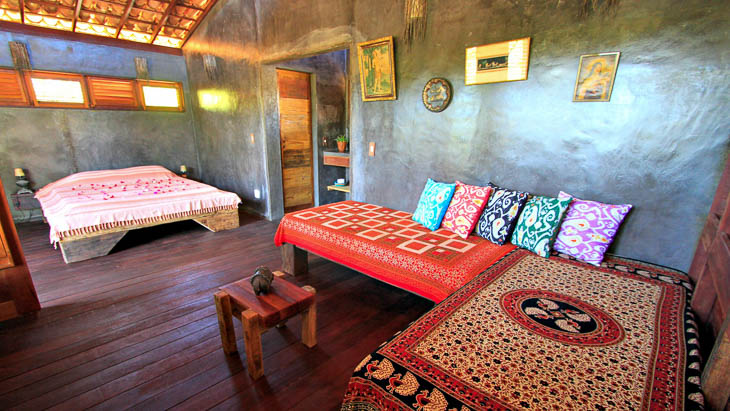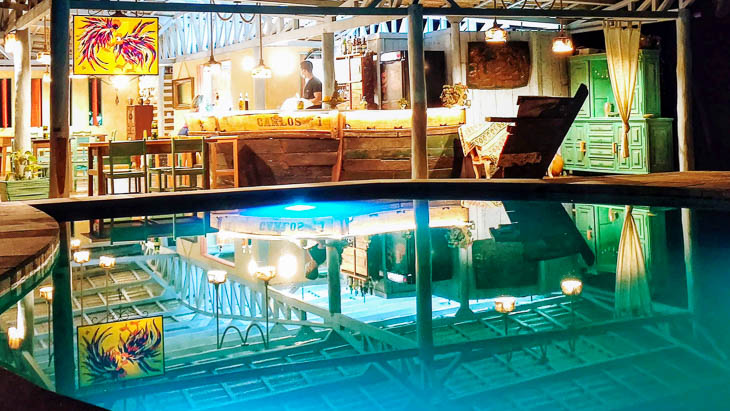 The choice is not quite so large when it comes to dining places. Most restaurants serve typical regional food such as fish, shrimp, beef and chicken. But there are also pizza and burgers.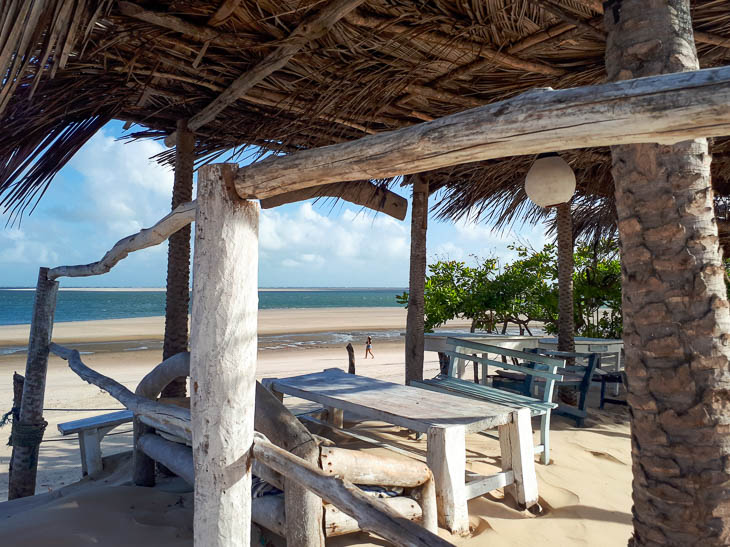 But of course there is no party mile here. Those who come to Atins are looking for peace, seclusion and of course a world class flat water spot. Most of the accommodations offer free wifi – it is quite slow, but better than nothing. In Atins, however, you need your cell phone for something completely different. That is the flashlight function to find your way in the darkness. At night it is pitch dark but the starry sky shines above you in all its splendor without light pollution.
Additional Activities
Besides kitesurfing, the main attraction in Atins is the direct access to the Lençóis Maranhenses. This only desert of Brazil – yes Brazil really has a desert – covers an area of over 155,000 ha and extends 20 miles inland. Due to the heavy rainfall during the rainy season, lagoons up to 10 feet deep develop between the dunes.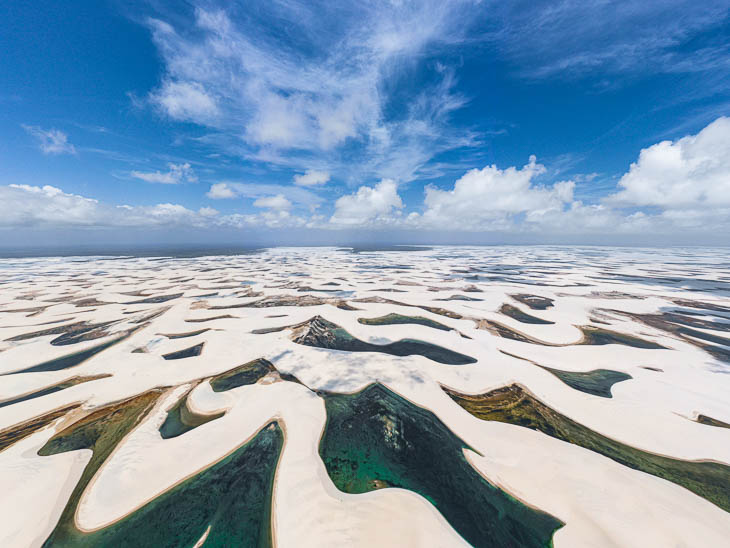 From Atins you can explore the National Park by horse or car with an authorized driver. Unauthorized driving is prohibited and absolutely not recommended. The shifting sand dunes are exposed to strong trade winds and thus slowly but steadily change their position and shape and. And it is precisely this wind that you can take advantage of as a kite surfer in the Brazilian desert to enjoy an indescribable kitesurf experience.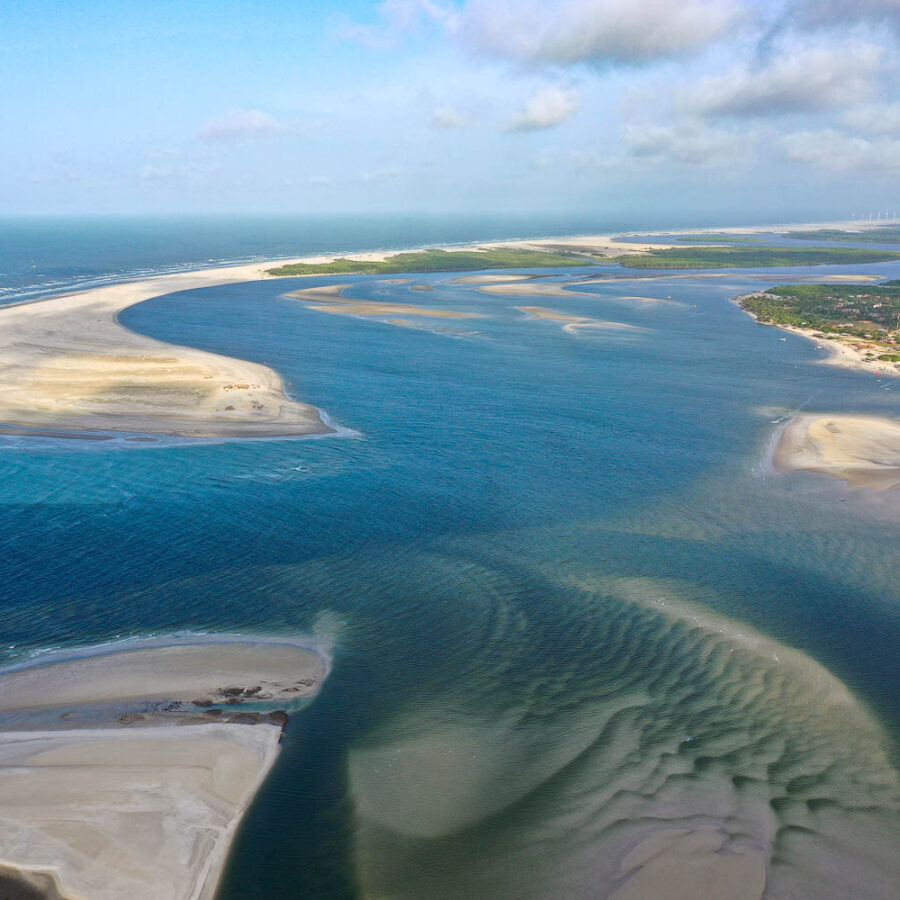 Kite spot Atins
Summary
Very good flat water kite spot with numerous schools on site. A wave spot is present, albeit somewhat distant. Overall, only a few kitesurfers and a lot of free space. The journey there is a bit arduous. Sufficient accommodation, but the number of restaurants is not very high. Everything is closed after 10 p.m. at the latest.
Pros
Excellent flat water spot
Shallow spots
Beginner-friendly
Cons
Long and arduous journey
Very quiet in the evening