 Description
Day 1: 11 Sept.
São Miguel do Gostoso → Galinhos | 50 mi
Today's destination Galinhos is a good 50 miles away on the water. We get going in front of the Kite Center Kauli Seadi which is located about 1.6 mi east of the center of São Miguel do Gostoso – directly on the beach. We'll leave São Miguel do Gostoso and kite parallel to the wide sandy beach. 6-miles later we reach a beautiful bay which is part of Praia de Tourinhos beach. After a little more than half of the day's route, we have reached the northernmost point for today. From the wind farm near São Bento do Norte, our route runs towards WSW. Several-miles follow without any signs of civilization. We reach Galos in the late afternoon. From here it is only a short distance to Galinhos. We'll spend the night at Pousada Amagali-Galinhos or Pousada Brésil Aventure. Both are really great.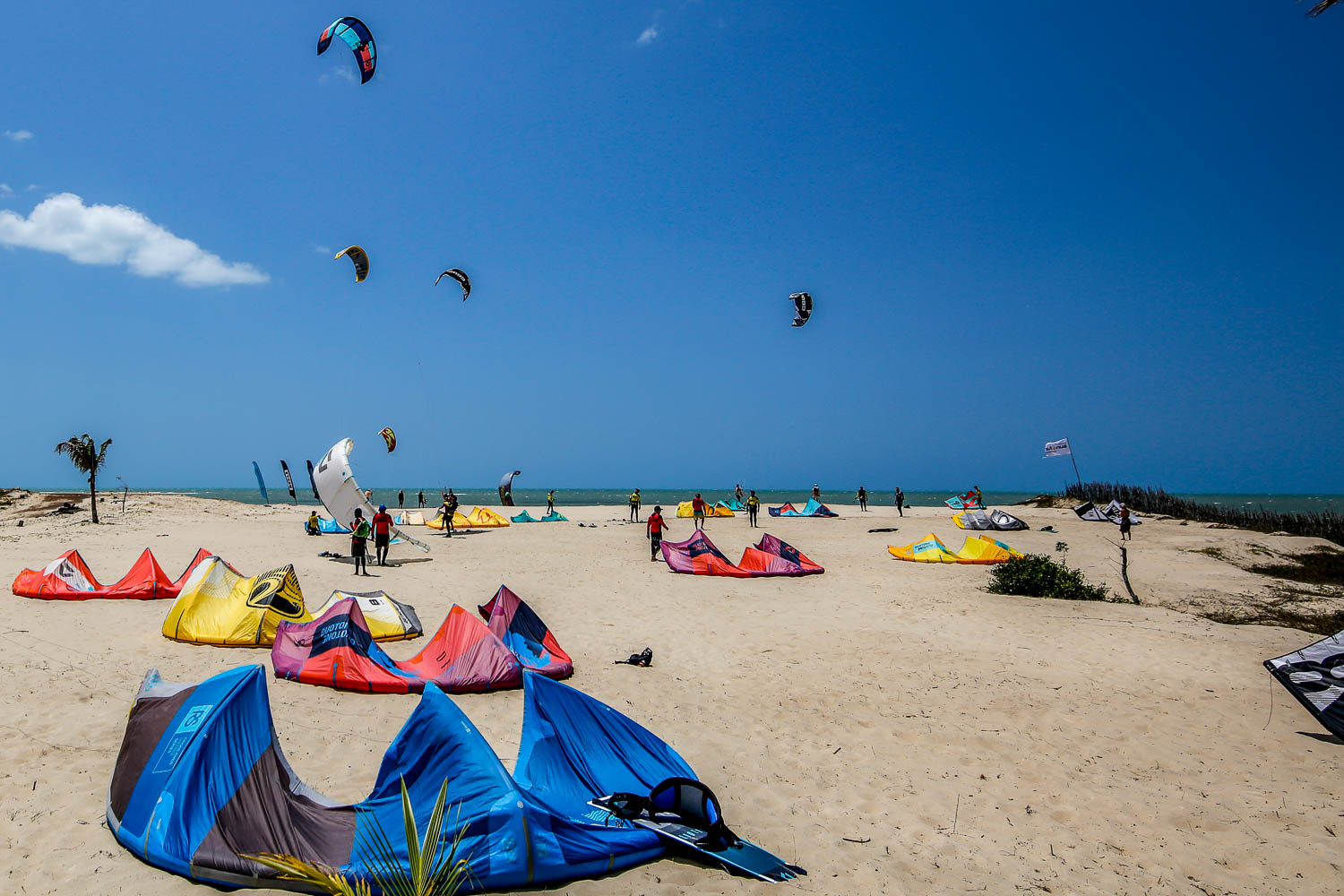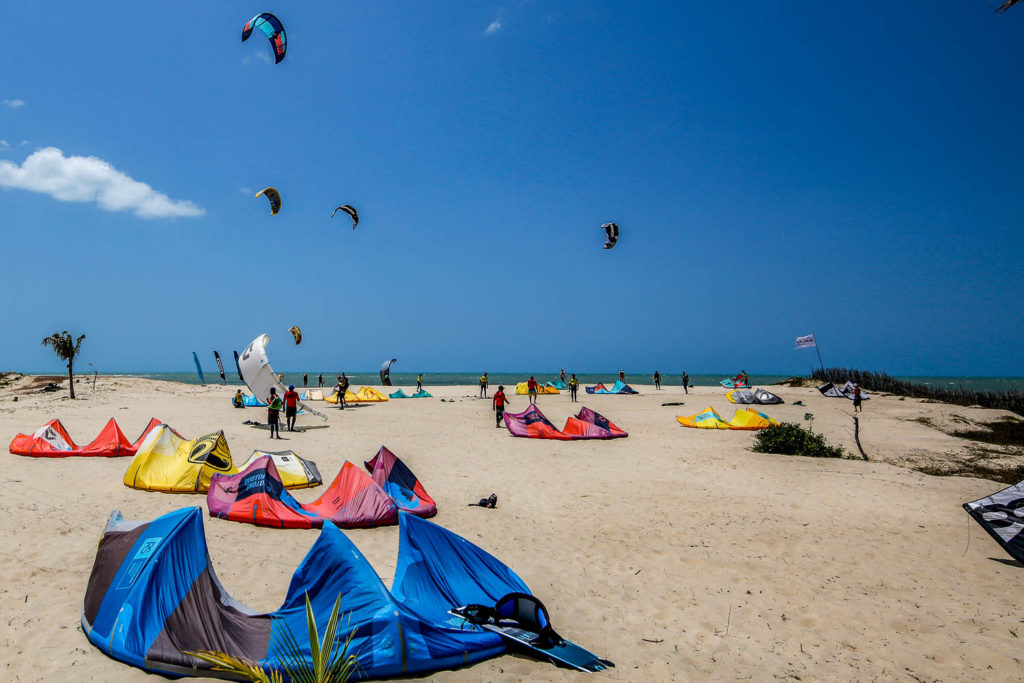 Day 2: 12 Sept.
Galinhos → Ponta do Mel | 53 mi
Now our journey with the wind continues. Ponta do Mel is on the program for today and 53-miles have to be covered. So we leave Galinhos, which is located on a headland just 440-660 yards wide. We cross to the other shore of the huge estuary. Here you will find a number of sandbanks and in between there are mirror-smooth flat water spots. 12-miles further on, the scenery repeats itself. North of Barreiras there are-miles of sandbanks and countless flat water spots. Due to the shallow water and the light sand, the water is unusually turquoise. 19-miles before our destination, the course suddenly turns northwest again. The red sand in the hinterland is an indication that Ponta do Mel is not far away.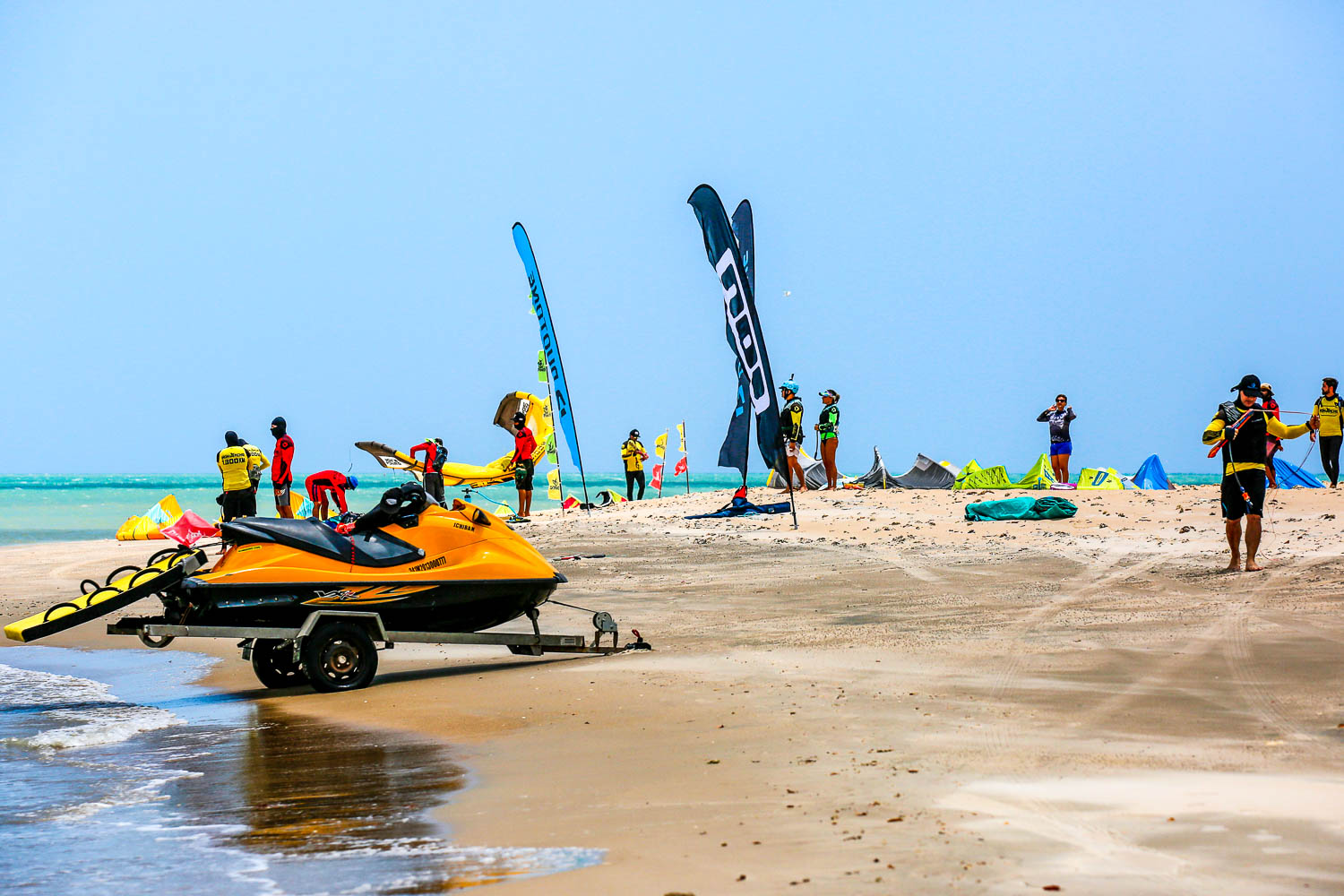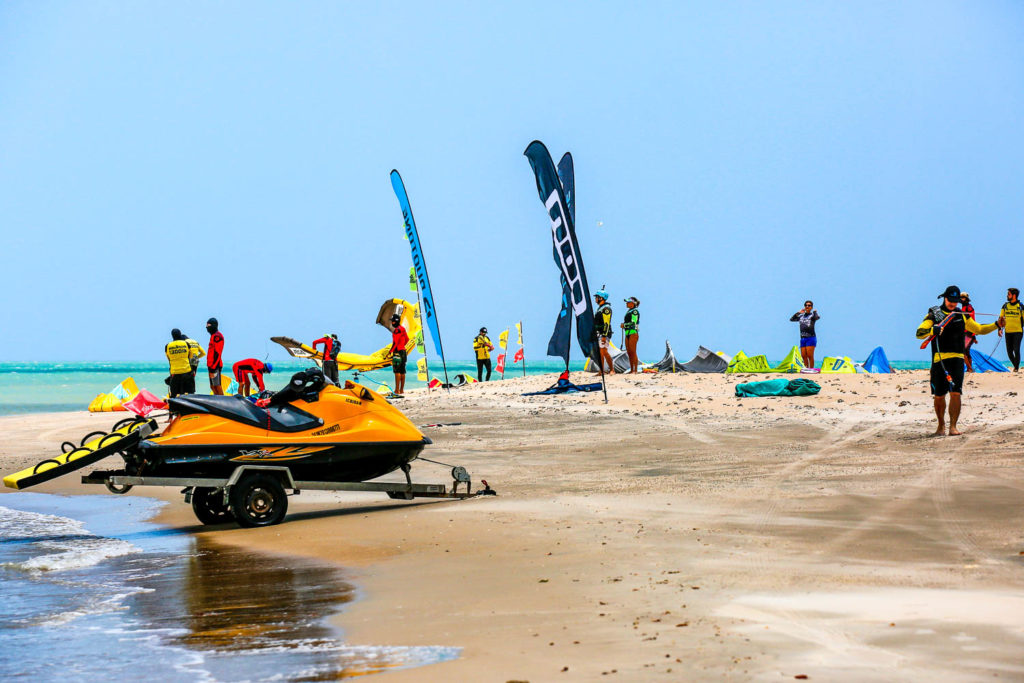 Day 3: 13 Sept.
Ponta do Mel → Tibau | 31 mi
After breakfast in the Beiral Pousada e Restaurante, we continue the journey. Two longer stretches are behind us. A shorter tour of only 31-miles awaits us today. Today we go to Tibau. Its a place on the border between the states of Rio Grande do Norte and Ceará. While the course initially still heads WNW for the first 6.2-miles, it then heads west for another 12.4-miles. We pass Areia Branca, whose name White Sand is based on the salt extraction in this area. After crossing the Rio Apodi, we have another 9.3-miles to go in a north-westerly direction. A good meal and chilled drinks are already waiting for us in the Pousada Beijo Mar in Tibau.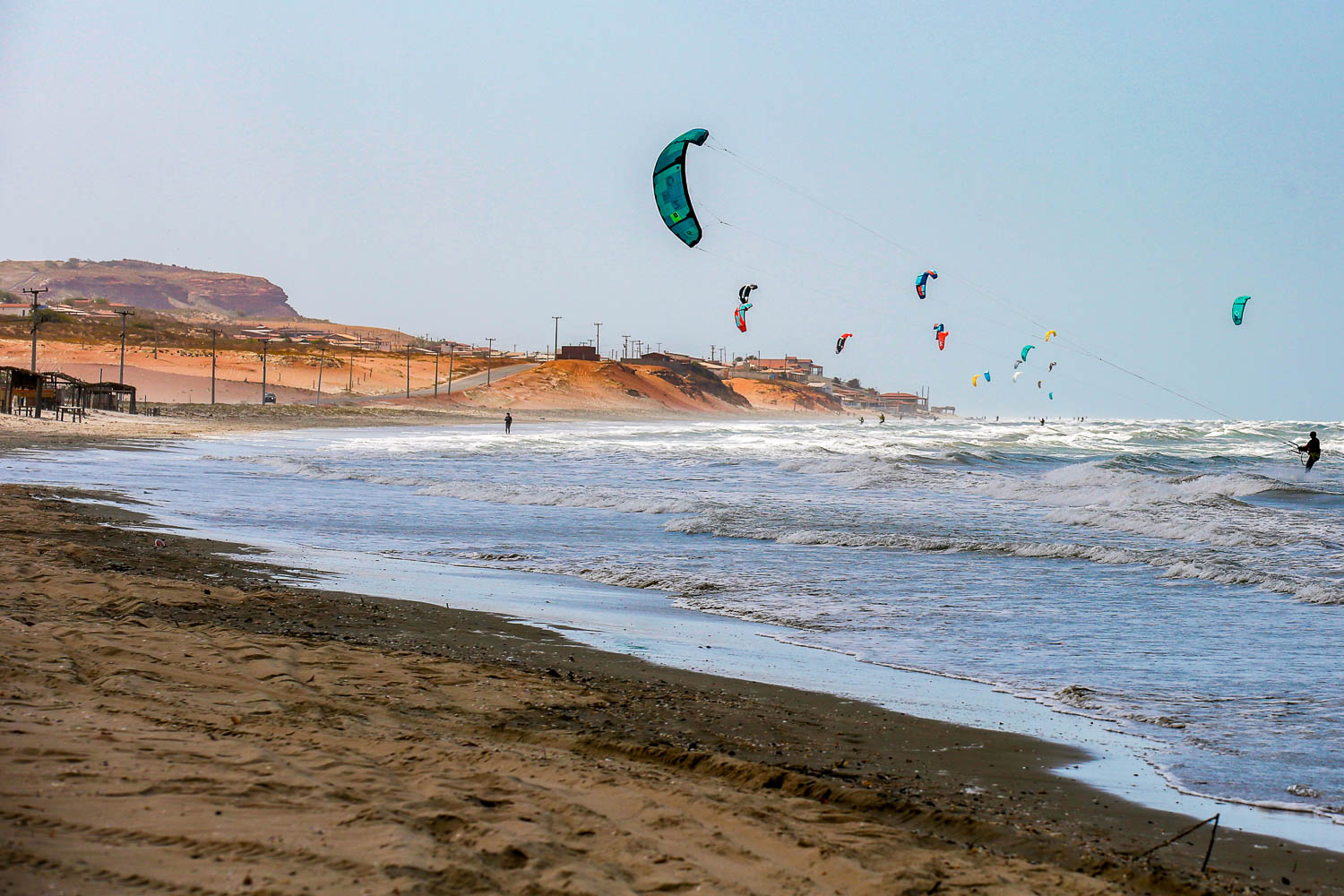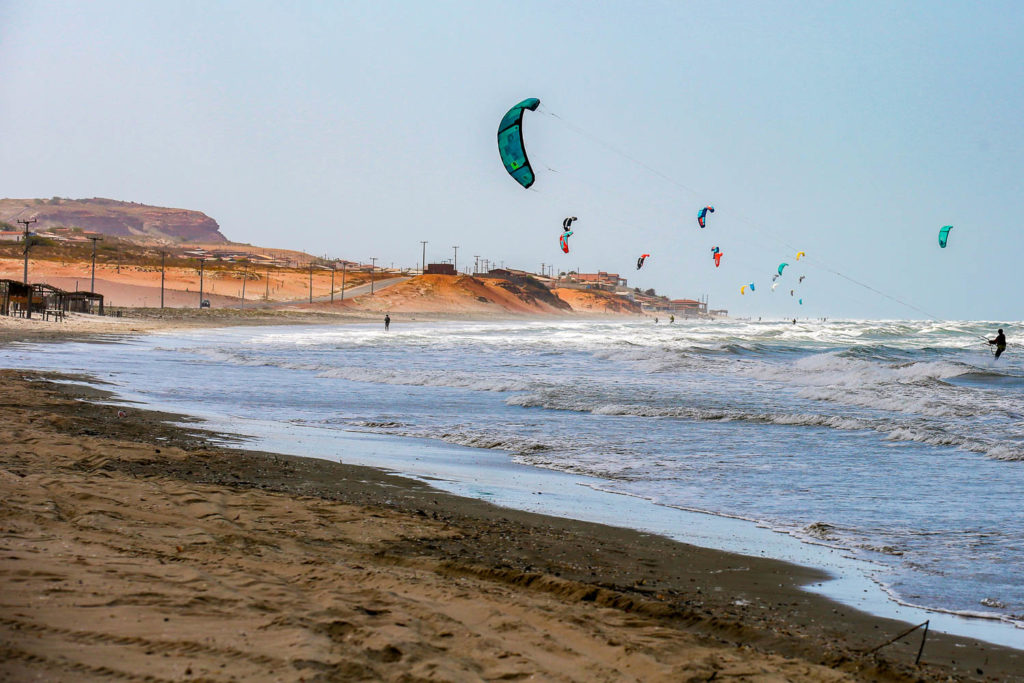 Advanced kite surfer with a good basic fitness

Kitesurfing in the open sea with moderate waves

Relaunch the kite from the water

Master the body drag also upwind

Familiar on how to Self rescue

Able to ride Switch or Toedside very well
| Body weight | Kite size |
| --- | --- |
| 130 lbs | 6 – 8 – 10 m2 |
| 180 lbs | 8 – 10 – 12 m2 |
| 220 lbs | 10 – 12 – 14 m2 |
Recommended kite sizes in Brazil depending on the weight of the kiter
Overnight stay in comfortable and clean accommodations

Delicious and exotic breakfast

Kitesurfing accompanied by professional guides

Support vehicle on the beach or motorboat

If necessary, rescue with jet ski

Water, juice, fruits and snacks during breaks at the beach

Long sleeve lycra of the event
Flight

Airport transfer

Lunch and dinner